You may have heard that Benjamin Moore has just named the 2018 color of the year. I've never quite taken these things so seriously. For those who are not in the world of design, it can seem like just more rules to be followed when approaching a home project. This kind of mentality limits creativity and leads people to create spaces they may not really love in fear that they'll be out of style or not keeping up with the trends and this is NOT what design is about - whether you work with a professional or not.
For me, I like to take digest these style predictions as pure inspiration. How can I take this color that I've never used before, work it into my everyday design style and truly make it mine - not what others tell me it should be. It's a challenge that is often eye opening and a creative exploration all on its own. And for 2018 - the color to be used is CALIENTE AF-290.
I have to admit this prediction was a bit shocking to me at first. Red is a color that has been taboo in the interior design industry for quite some time. Mainly because these options can be so limited in that color. The trick is to choose great silhouettes and quality materials and the color can really work anywhere. Here are some pieces I'm attracted to in that bold hue:
While colors of the year are always a trend, there's one other trend that's back and it's not going anywhere any time soon - WALLPAPER! I've been using it in every project as of late and it's just getting better and better. With large pattern wallpaper and textured and metallic wallcoverings offered, the options really are endless.
Combining these two trends would give really great design payoff. Red is a bold color choice for anyone who wants to transform their home and decorating with red doesn't have to be daunting. Here are a few tips to make updating each room with a flash of red wallpaper easy:
Colors and Connotations
Red is a powerful color. It represents fire and danger, but it also connotes energy, strength, love, desire and passion. For this reason, the color red is emotionally charged and is known to raise the blood pressure, increase the heart rate and even enhance appetite and metabolism.
Living Room
Red is a surprisingly versatile shade that can be used to enhance rooms of all styles. For a contemporary living room why not embrace an industrial aesthetic and incorporate red with a Red Brick Wallpaper? The faux brick is bang on trend and adds so much character to a plain white wall.
Red can also be very rich and regal and is perfect for updating a traditional living room. Graham & Brown's Splendor Red and Cream Wallpaper design is a total crowd pleaser due to the dramatic damask print. Diluting red with this subtle cream creates a softer feminine feel. For a more vintage vibe, the Kinky Floral Bordeaux Bordello wallpaper is a perfect complement.
Bedroom
Red works well in the bedroom due to its association with love and romance. If you want to create a sensual boudoir feel, the Melody Red Wallpaper is perfect. The pearlescent background contrasts with the unique shape of the damask print and adds just a little bit of drama. For texture, the Bloom Beige and Red Wallpaper is a stunning choice with a shimmering metallic detail that brings a little softness to the look.
I love a good neutral palette but it's usually the safe and easy path. Opting for a challenging shade such as red can be very rewarding and totally set your space apart. I hope my wallpaper picks have inspired you! Be brave - it's just wallpaper!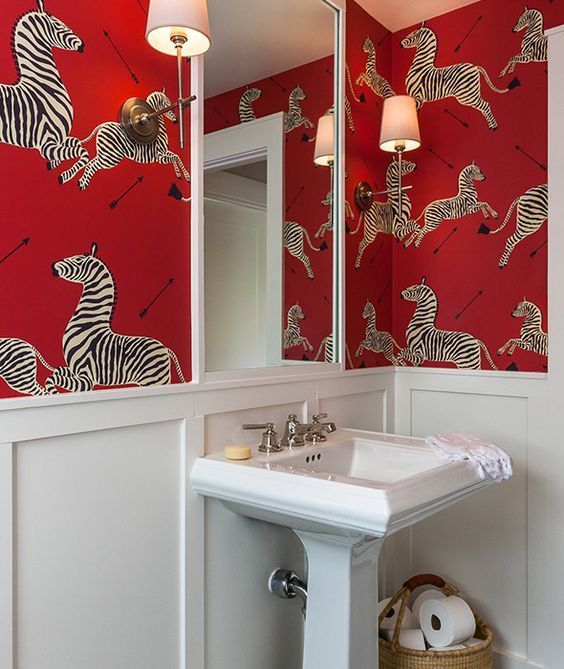 Explore Graham & Brown's full selection of red wallpaper here. And use the code SHIPSFREE for a discount on any wallpaper on their site!
MESSAGE ME for help on your upcoming home project - even if it doesn't involve red wallpaper!
This post was written in partnership with Graham and Brown. All opinions are my own.